*This is like a personal diary entry that I only want to share with friends. So if you know you're not welcome on this blog (especially the ones blocked from my twitter), please don't read this or try to take anything from it.*
Gosh, has it been almost 8 months already?! The guilt finally got to me (since I'm actually 2 fan accounts behind) so I had to force myself to sit my lazy ass down in front of the computer and just resume writing. But you'll notice the drastically decreased amount of details in the latter part that I'm writing right now, thanks to my declining memory.

To help refresh YOUR memory, you can read what I did the day before the concert here.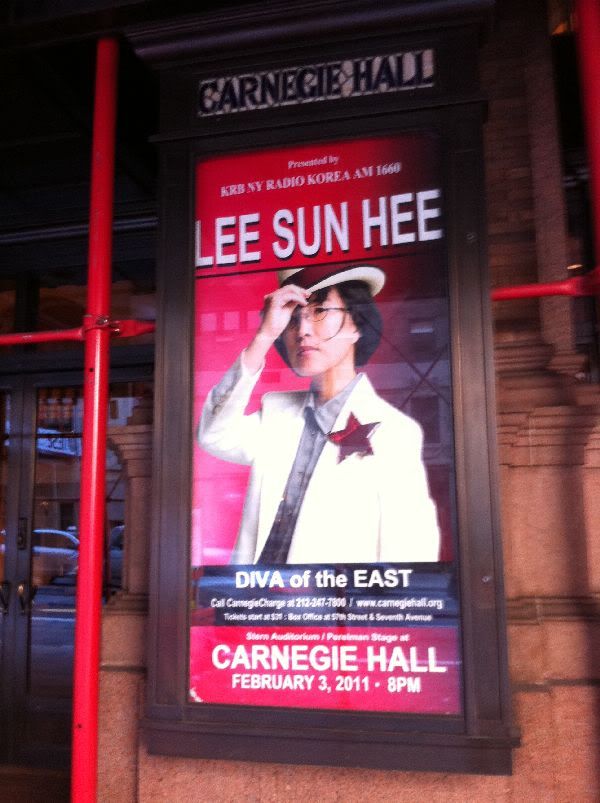 It was definitely the most memorable Lunar New Year ever!
When I first decided to go to the concert, it didn't even occur to me how significant the concert date was. The Lunar New Year is definitely the biggest holiday for me, as a Chinese. But living in the US, I don't often get a chance to celebrate it properly, since it's not a recognized holiday at school or at work. But this year, thanks to SeungGi, I got to welcome the Lunar New Year leisurely in New York City. Since I'd been to most of the tourist spots before, all I did this time was (window) shopping and eating.

[As a side note, the food in Chinatown and Korea Town was simply amazing! A must try!] And of course, there was the concert of a lifetime.
SeungGi said that even though he couldn't celebrate the Lunar New Year with his family, he didn't want to miss the once-in-a-lifetime opportunity to perform at Carnegie Hall. So of course I couldn't miss my once-in-a-lifetime opportunity to see him performing at Carnegie Hall. And a big 'THANK YOU' to Hook and Ms. Lee Sun Hee for making this possible.
When the concert day finally arrived, I could definitely feel the excitement mounting, but I still hadn't fully recovered from my airport adventure. So I spent the morning relaxing and recuperating in the hotel. A few of the US Airens had originally planned to organize a small event for SeungGi and the staff at the concert. Unfortunately, it turned out that Carnegie Hall did not allow any food/drinks from outside, even for staff members. So the event had to be canceled. However, we were still hoping to deliver some gifts to SeungGi. I met up with iGo_Seung and a few other fans in the afternoon; they were the ones who'd been organizing everything. We first went to check out the flowers iGo_Seung had helped order for the concert. They were to be delivered to Carnegie Hall by the florist.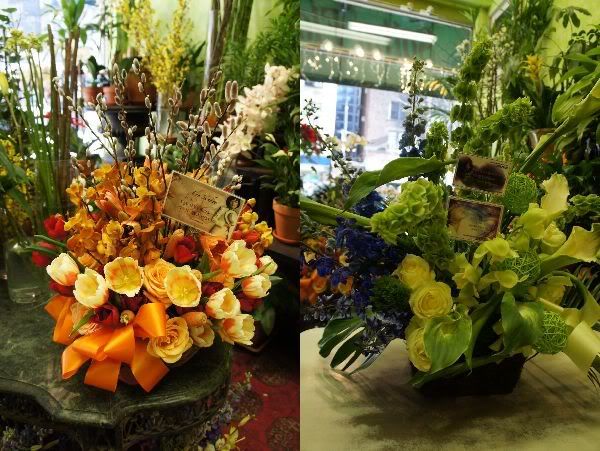 The one on the left was for Ms. Lee Sun Hee, from SeungSunLove Café. The color theme was orange because her fans are called "carrots" and if you look closely, you should be able to see the carrots in the flower arrangement.

The one on the right was for SeungGi, from DCLSG. Well, there aren't any pearl mint colored flowers, but it still looked pretty nice, didn't it?
Next stop was lunch at a Korean restaurant in midtown. The food was nothing to write home about; the highlight for us was finally seeing a concert poster with SeungGi's picture on it!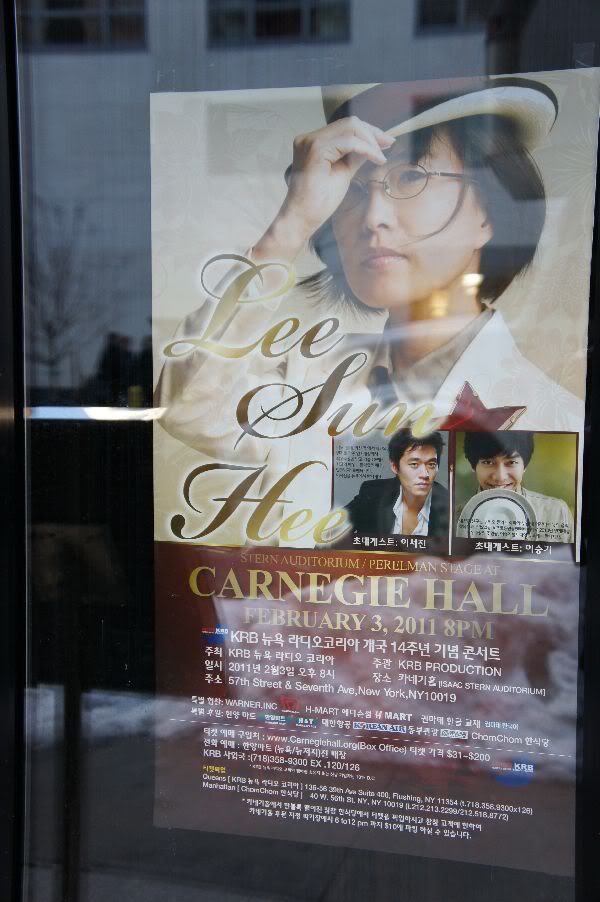 After lunch, we went back to the hotel to get our gifts ready. The Daum Café had asked one of the fans to prepare some gifts for SeungGi as well. They ended up buying an adorable teddy bear wearing a hooded sweater and an "I♥NY" button, and wrapped it up with a candy bouquet in one arm and a bag of aqua (or was it pearl mint?) M&M in the other arm. I didn't take a picture, but it was super cute! Then we wrapped up our own gifts together, and labeled them as 'From Airen USA'. Again, I didn't get to take a picture of the final package, but here's my contribution, a big box of chocolates:

One of the fans had a manager's contact number, so she called him after we got all the gifts packed and ready. I forgot what time it was exactly, but it may have been late afternoon already. The manager said they had arrived at Carnegie Hall and he could meet us there to take the gifts. We were only a few blocks away, so we made our way there quickly and waited for him by a side entrance. When he appeared seemingly out of nowhere (we were trying to figure out where the back door was

), I thought he was Teacher SunHee's manager since I had never seen him before. But I guess he had just recently become SeungGi's manager, and now I'm seeing him everywhere with SeungGi in the fanpics. It's the tall guy in black here: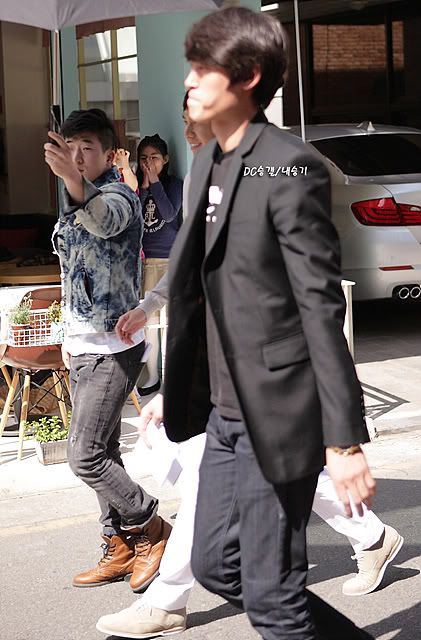 Anyway, he seemed really nice and we (well, everyone except me, since they were all speaking Korean) started explaining all the gifts to him. He said the flowers had already been delivered to Teacher and SeungGi's waiting rooms. Since he's a big guy and could easily carry all those gifts by himself, we couldn't really offer our service hoping to tag along to the backstage.

After he disappeared from our sight, we went our separate ways to get ready for the concert. I just went back to the hotel and took a nap.
Then it was finally time for the concert! I didn't dress up but put on the SeungGi Hope Concert sweatshirt I got from iGo. I was running a little late because I overslept (the other fans had already settled down into their seats), but my hotel was right across the street from Carnegie Hall. So I made a quick dash and got there in no time. Maybe because it was so late, I didn't have to stand in long lines like these people: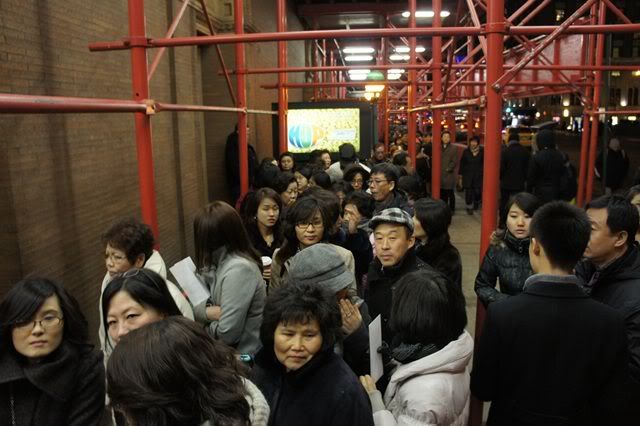 I got to my seat pretty quickly. It was inside a private box, which was pretty nice. But the stage was not as close as we had imagined.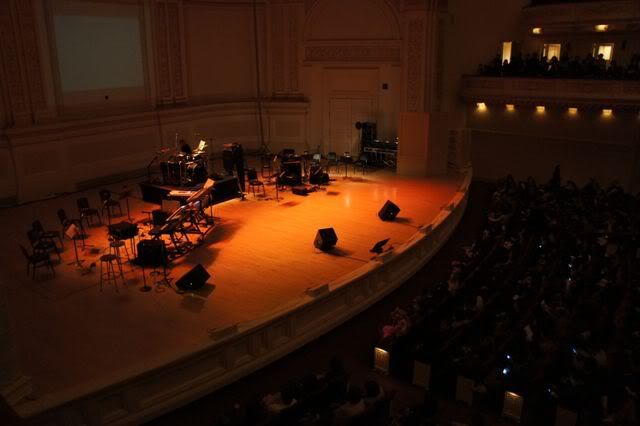 We had bought the most expensive tickets, because we were told that those seats had the best view and acoustics. The stage at Carnegie Hall is very high, and the box seats are supposedly at eye level with the stage [not!]. But we forgot that Carnegie Hall was built for classical music, not pop music! While it's nice to have an unobstructed view of the entire stage when there's a big orchestra performing, but for us, we only care about seeing SeungGi as close-up as possible.

Actually, there was another reason why we went for the box seats. There was a rumor that Teacher SunHee's daughter reserved the first 3 boxes, and our box would have been right next to theirs, so we could even get a glimpse of people possibly related to SeungGi from our seats. Anyway, that got our hopes up [falsely].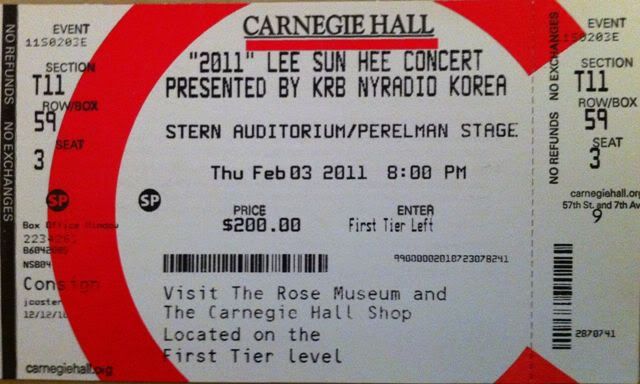 We had all prepared banners and lightsticks, we got our cameras and camcorders ready, and we were ready to scream at the top of our lungs as soon as the concert started. The people around us could easily tell we were huge fans.

When they found out that some of us came from California, they were quite amazed. But there was actually one fan in our group who had come all the way from Korea!

When the concert finally started though, those annoying ushers kept barging into our box and telling us no this, no that. Come on! What was a concert without banners or lightsticks?! Why couldn't we use cameras without flash?! (Why couldn't they go pick on those people flashing away?!) And what was the use of booking a private box without getting any privacy?! Anyway, we had to put away our banners and lightsticks. And we had to hide our cameras, and could only take pictures and videos secretly. Those fanpics and fancams definitely did not come easy.

Anyway, Lee Seo Jin came on stage first, and did a very brief introduction of Teacher SunHee. I think it was a little too brief, and the audience's reaction was somewhat subdued. Honestly, I couldn't believe that he came all the way here from Korea just for that.
Then Teacher SunHee appeared and was greeted by a big round of applause [of course

]. I had seen her perform live at SeungGi's Hope Concert last year, so I had already learned firsthand what a talented and powerful singer she was. Even though I didn't know that many songs of hers, I thoroughly enjoyed all her performances.
[You can watch a few videos I took of her performances here.]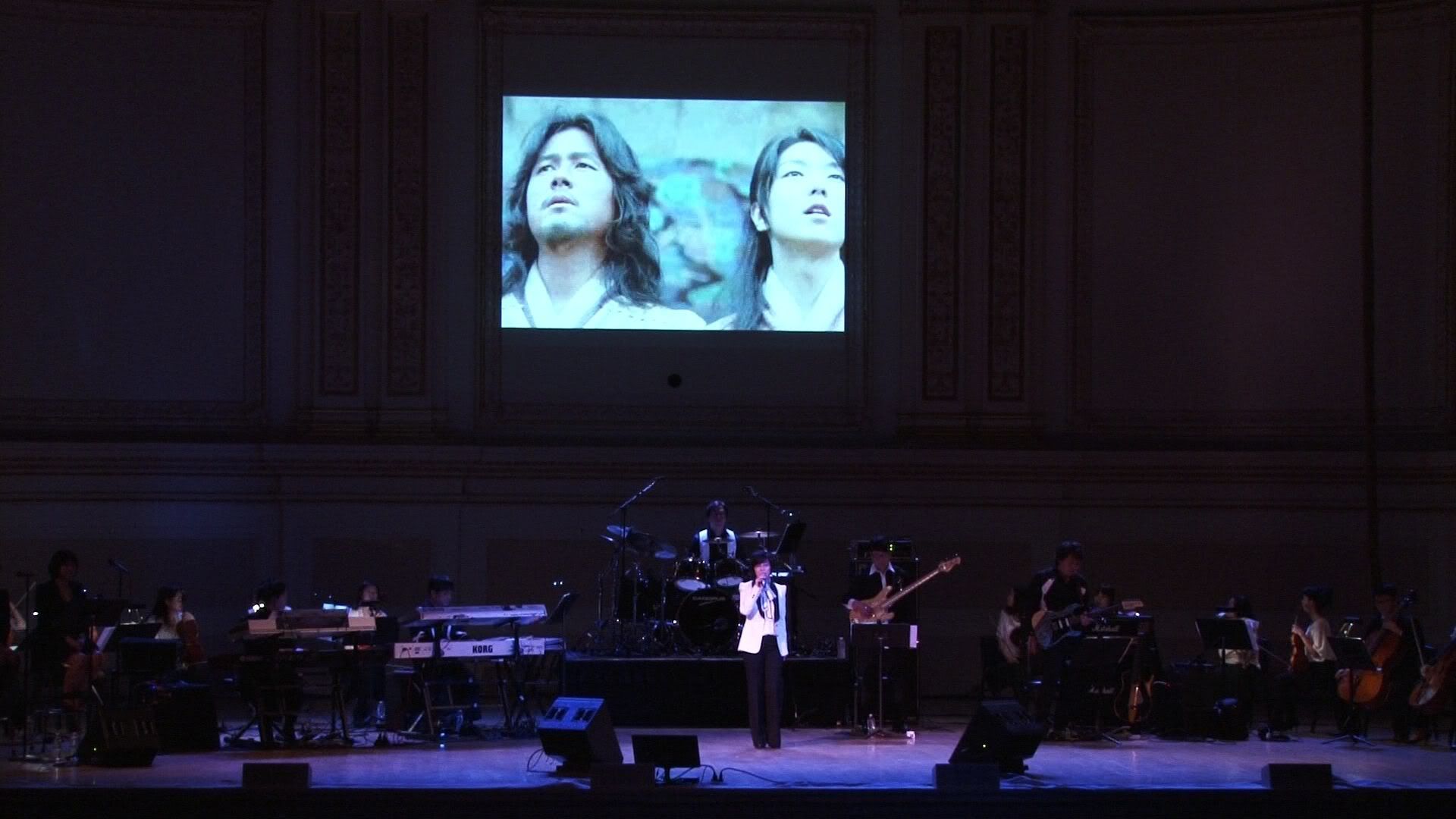 Then, finally! It was SeungGi's turn!
At the end of the first part, Teacher SunHee started to introduce the special guest, and she was totally singing SeungGi's praises. SeungGi then came out and gave Teacher a huge bouquet of flowers and a hug! I may be biased, but I really thought he got an even warmer reception than Teacher SunHee. Some people were definitely screaming.

Even though he was a little far from us, we still could see his face clearly, which was a big improvement from Hope Concert.

So I just stared at his face, still amazed at how close-up I saw him just the day before at the airport, even though everything was still a blur. Now, he was right in front of my eyes again, and I could stare at him all I wanted without being intrusive. Haha And I could finally confirm all the other fan accounts about how lean and tall he was, how small his face was, and how heart-melting his smile was. And he just looked so sharp in that black (and somewhat sparkling) suit!
SeungGi then proceeded to sing 3 songs. He also talked a lot between the songs. I was so busy taking pictures and videos (at the same time!) while trying to hide from the usher, I missed a lot of what he said. But there was a very cute heodang moment when the fans responded to something he said, but he couldn't hear the fans clearly. So he looked up to our side, where most of the noise was,

with a quizzing look, and his expression was so adorable!
Unfortunately, I didn't get to capture it very well: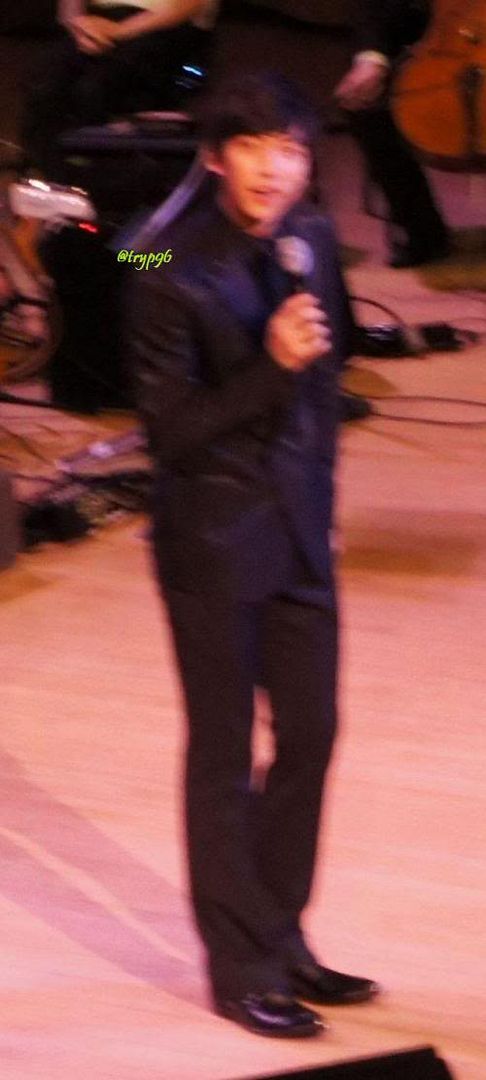 Because You're My Woman
I Love You From Now On
I'll Give You All
SeungGi's performance of the 3 songs was definitely too short! And we were really hoping that Teacher SunHee would come back on stage to do a duet of 'To J' with him. But alas, it didn't happen that way. SeungGi took his bow after the 3rd song and disappeared from the stage.
And that was the end of his Carnegie Hall appearance.
[You can see more pictures I took here: part 1, part 2, part 3]
Teacher SunHee came back and wrapped up the rest of her amazing performances. But honestly, I had lost my focus after SeungGi left, and was feeling down thinking that I had seen the last of SeungGi in New York. After the concert ended, it took us a while to regroup, since some of the fans were sitting in other sections. Everyone was gushing about how amazing the concert was. We then decided to try our luck and stalk the back door hoping to see them one more time. So we walked around the building, saw a small group of people waiting by an inconspicuous door, and figured that must be the back door to Carnegie Hall. While we waited, we saw the manager and the stylist loading things (including our gifts that had been unwrapped!) into a van, so we got excited thinking that SeungGi hadn't left yet. So we kept waiting. It was a winter night in New York, of course it was cold. But no one cared. After a LONG wait and a few false alarms, SeungGi finally came out of the back door! With a huge entourage including Teacher SunHee, Lee Seo Jin, and many staff members. And SeungGi was very well guarded.

I had been standing right outside the door with my camera ready. iGo, with her camera, and a few fans were waiting by the van. So we had all the good spots covered. After the disaster with my camera the day before, I decided to take videos instead of pictures this time, for a better capture. BUT, the moment the back door opened and SeungGi's face appeared right in front of my eyes, maybe just a couple feet away, my mind went blank again! In the midst of the chaos and confusion, instead of pressing the video-recording button, my finger automatically went for the shutter button. And I didn't even realize the mistake and just kept following SeungGi to his car aiming the camera at the back of his head.

So instead of the HD fancam I was expecting, all I got was this: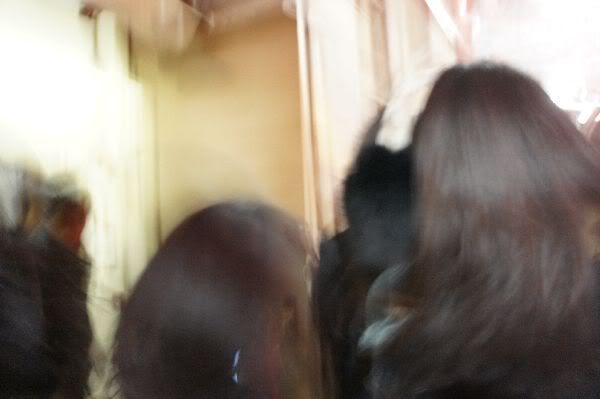 Fortunately, iGo got some really nice shots of SeungGi from the front!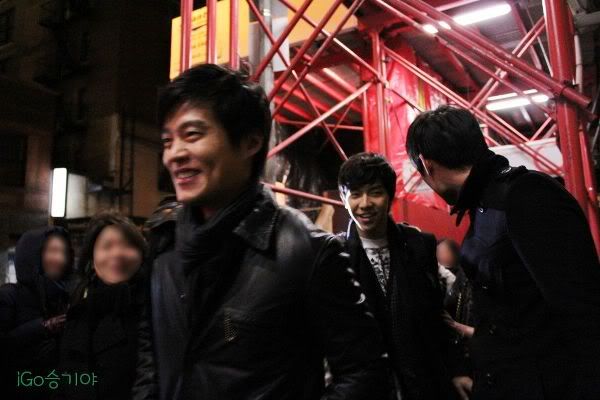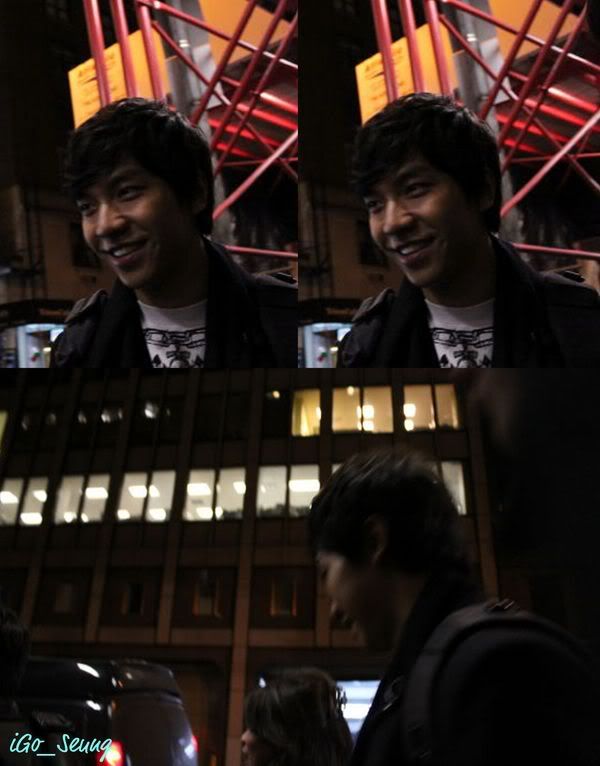 The van on standby was actually for Teacher SunHee. SeungGi and Lee Seo Jin got into an SUV (I think it was the same one I saw at the airport). After SeungGi got in, he waved to the fans, and said 'thank you'. Then the SUV took off. A couple of fans tried to hail a cab to chase after it, but had no luck. We were all super excited about this encounter, but we were super hungry as well. So we headed to Korea Town and chatted nonstop about SeungGi over a super delicious dinner. And that was how my Lunar New Year celebration came to an end.
Photos credit: KRB NYRadio, iGo_Seung, tryp96.wordpress.com