*You can buy non-VIP tickets online at Ticket Charge*
The VIP tickets are now on sale!!! Please contact Jazzy Group to get yours now!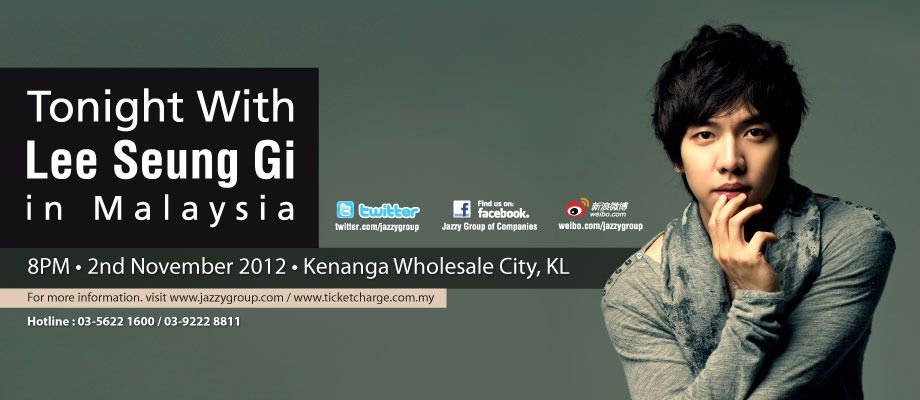 Looks like this is going to be a mini-concert/showcase, rather than a fan meeting:
Dear Airens,
tickets for Tonight with Lee Seung Gi in Malaysia,
will be launching on this coming Wednesday 19 Sept, 10am,
at Jazzy Group office.
Come and grab the tickets~~ See you!!
李昇基 2012 大马小型演唱会 ,门票将于这星期三,9月19日,
上午10点,正式售票于 Jazzy Group 办公室!!
到时见~~
STEPS TO RESERVE YOUR TICKET
STEP 1
Call the hotline 03-5622 1600 or email to marketing@jazzygroup.com to make your reservation.
STEP 2
Choose your payment method:
1. Pay cash at our office
(10-1, 1st Floor, Jalan USJ 10/1, Taipan Triangle, 47620 Subang Jaya, Selangor.)
2. Bank in: Maybank – COMPANT NAME :Jazzy Group (M) Sdn. Bhd.
ACC NO : 5123 6117 0626
SWIFT CODE : MBBEMYKL
3. Credit card: Please provide us with your credit card info.
(credit card name holder, credit card no., CVC no., expiry date) – 2.5% bank charges of the total amount
STEP 3
Ticket collect:
1. Collect at our office
2. Collect at the venue
3. Send by courier (courier fees RM10 within Malaysia)
STEP 4
Fax or email the proof of payment together with your details
(name, IC no, contact no, email address) to:
Fax: o3-5622 1601
Email: marketing@jazzygroup.com
STEP 5
Ticket will be proceeded with the proof of payment and details provided.
NOTE:
Please kindly make your payment within 24 hours or the system will auto-released your seat and there will not be any information from us.
Thanks
to whom that purchase VIP ticket at Jazzy Office on 19th (wed) deserve a "lucky draw" chance to win Lee Seung Gi autograph.
Jazzy Group
source: JazzyGroup